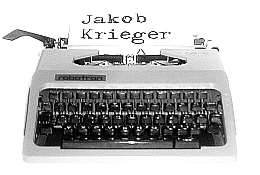 Jakob Krieger
---
Professional journalist at Munich, Germany, member of Bavarian Journalists' Association (Bayerischer Journalistenverein BJV), experienced in traditional and new media, publications on numerous topics – high-tech, IT applications, hardware tests, internet, society, politics, sports, fine arts, biography, analysis, public relations, esotericism.
Plots and dialogues for movie and TV productions. Editorial works on online and offline media. Editorial reading, translation, media contacts, supervision, enquiry.
---
A professional journalist's outline is by some means similar to a stuntman's: There is no limit of craftsmanship, there is unlimited availability at any time of day, and at the movie's final credits there is no entry of your name in the staff list. Well, nobody either recalls the name of the »chef de cuisine« of last holiday's favourite restaurant. On the other hand, not every reference is a good one: I am thinking of all the collegues who state to »work for a major daily« and wouldn't even tell the paper's name to the priest on sunday shrive. May be it is not that important to be a prominent person.
Anyway, my writing activity dates back to school times, and I returned back to writing after studying physics and working in the IT sector. After some time of employed journalist work, I chose freedom in sake of security. Working for a company in times of »hire and fire« is not exactly what I call security, after all.
Security for editors as well as for media companies could be acheived by long-term contracting and tariffing. Instead, underrated payment has become number one paradigm – at the expense of quality, as everybody can read from sold print run figures. So I am hoping – and working politically – for a change of paradigm: Quality increase as a result of adequate expense. The customer, too, will honorate this.
Of course, there are people working for little money or even for free, just to have their article in the paper. And there are computers which excerpt internet content. But I see that publishing companies are not really comfortable with amateurs' and machines' results: I see this in the fact that they still ask me to work for them.
So, I believe in quality and professional work. This includes among other things, to present elaborate facts in a plain way, to judge sources on their trustworthiness, to work out a proper style of language for the topic and the media, and not at last to discard a script and restart from scratch if necessary.
If there is anybody who ownes a machine which can do all this as well or even better: Please show this machine to me. I will present this machine in the technical press, and I'll be famous after this – famous for being the last man on earth featuring a self-written article.
… November 2006, JK
Jakob Krieger • Leonrodstr. 75 • D-80636 Munich • jk (at) dashdotcom (.) de (*)
phone via (free) online directory »telefonbuch.de« (mail address and phone number hidden from bots)
---
(*) My url and mail address is an allusion on today's »dash-dot-com-world« and the common quirk of permanently spilling »tech jargon« from morning to bedtime. Time will come and we will laugh at this fad at last. Scepticist as I am, I still never give up hope …
---
Links to selected www-projects [de]
The type-writer you see above is something like a mascot for me, not in fact an everyday's tool. It was made in East Germany by Robotron about 1985, needs no electricity to work (still works like new), and has no USB port. Yet it is compatible to computer systems using a sheet of paper, a scanner, and OCR.